Favorite restaurants with outdoor seating to eat and drink on the water, from ultra-casual to fine dining.
 The Boatyard Waterfront Bar and Grill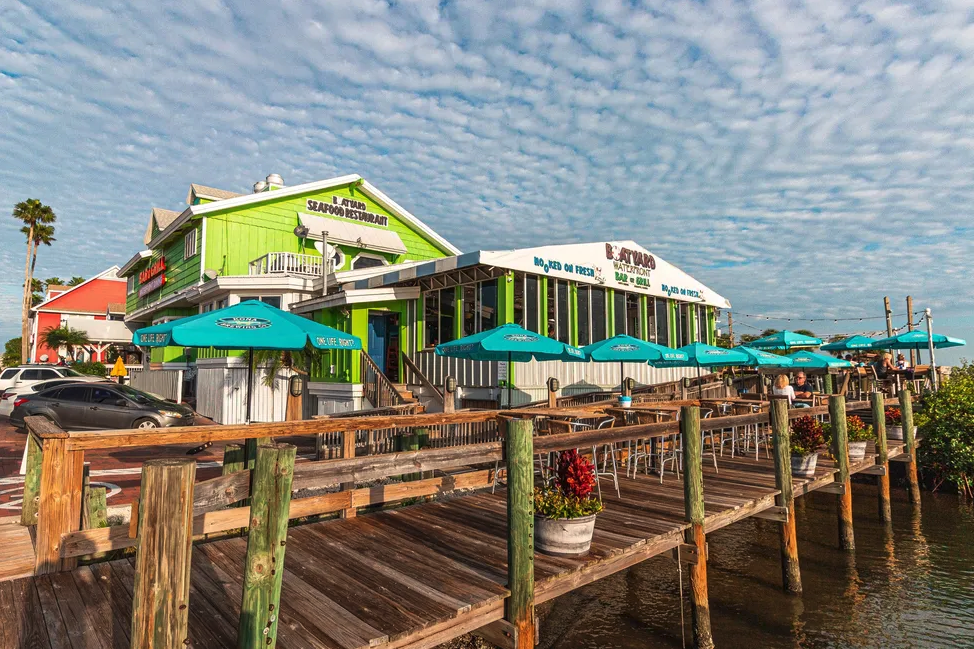 1500 Stickney Point Road, Sarasota | 941.921.6200 | boatyardwaterfrontgrill.com
The Boatyard, located at the foot of the Stickney Point Bridge, offers stunning views of the Intracoastal Waterway and south Siesta Key. Its dining rooms have interiors that seamlessly blend with the waterfront, and the dock features covered tables. The restaurant serves lunch and dinner, with a focus on seafood. One of the popular dishes is the mahi-mahi tacos, which are topped with smoked chipotle crème. Don't forget to peruse the cocktail menu, which includes the Category 5, a seemingly harmless concoction made with flavored rums.
Chart House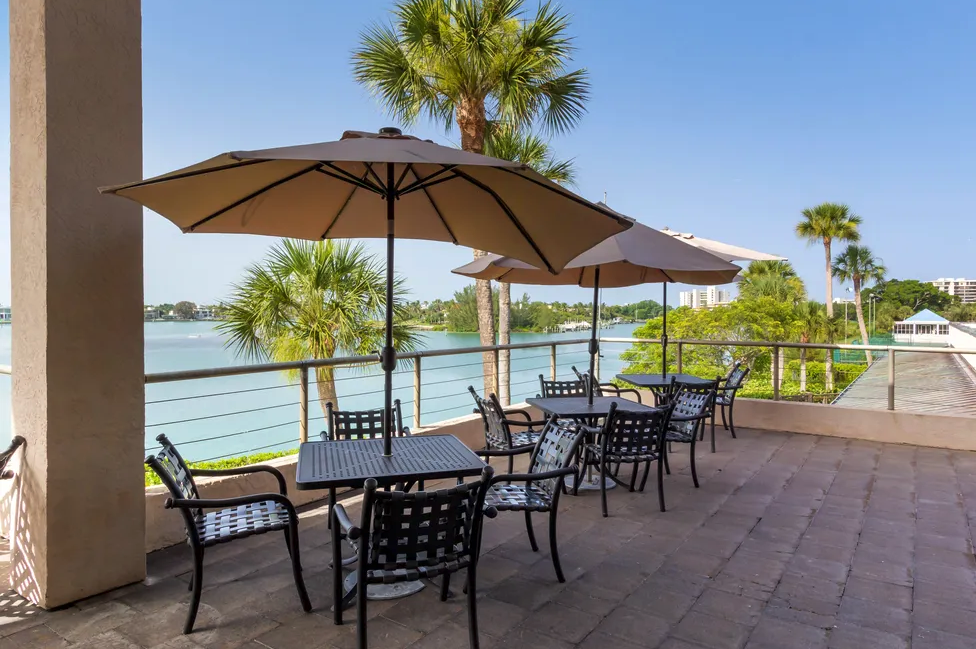 201 Gulf of Mexico Drive, Longboat Key | 941.383.5593 | chart-house.com
Chart House, an upscale chain restaurant that originated in Aspen, Colorado about six decades ago, offers a Longboat Key location that treats guests to stunning views of the New Pass area from its terrace and expansive indoor dining room adorned with high ceilings. The restaurant opens daily at 4 p.m., serving mainly seafood dishes. One of the standout items on the menu is the Key West Spiced Grouper, which features a flavorful fillet served on a bed of mango sticky rice, accompanied by a mild pineapple habanero butter. In addition to their delectable cuisine, Chart House's happy hour food and drink specials, available in the bar area from 4:30-6:30 p.m. Monday through Friday and from 6-6:30 p.m. on Saturday and Sunday, are extremely popular among guests.
Dry Dock Waterfront Grill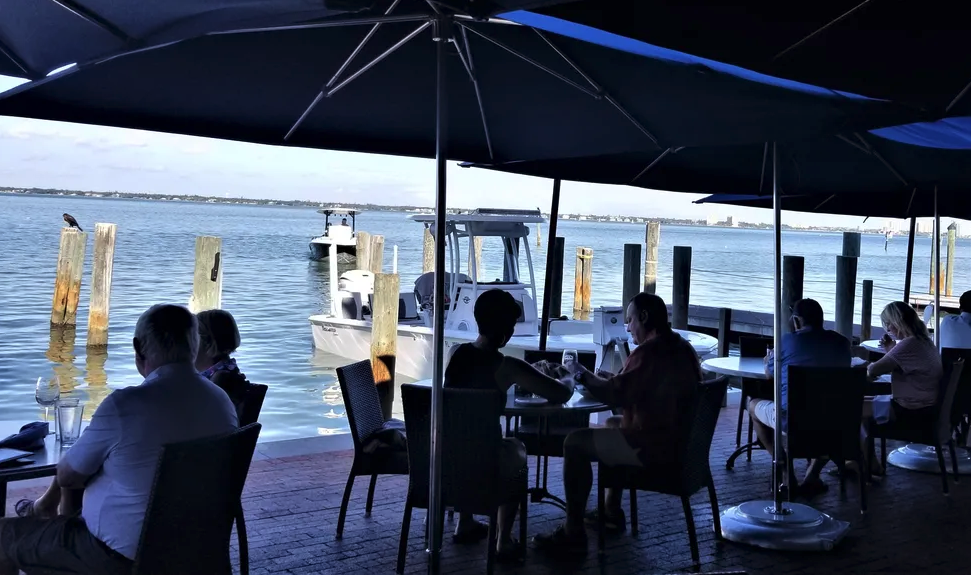 412 Gulf of Mexico Drive, Longboat Key | 941.383.0102 | drydockwaterfrontgrill.com
Established in 1989, Dry Dock is a highly acclaimed restaurant located in Longboat Key, renowned nationwide for its exceptional dining experience. Set against the picturesque backdrop of Sarasota Bay, the restaurant offers guests a choice between umbrella tables and open-air covered seating, as well as a cozy indoor dining area complete with a welcoming bar. Dry Dock is proudly owned by Sarasota's Gecko's Hospitality Group and has gained a stellar reputation for serving some of the freshest seafood in the region. Seafood enthusiasts will delight in Dry Dock's menu, which features delectable options such as succulent stone crab claws and their renowned grouper sandwich.
Jack Dusty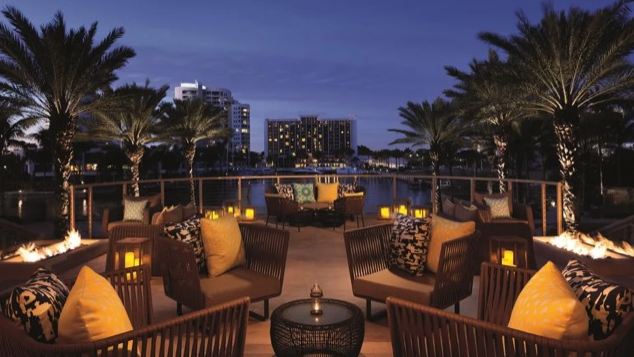 1111 Ritz Carlton Drive, Sarasota | 941.309.2266 | ritzcarlton.com
The Ritz-Carlton in Sarasota exudes an air of sophistication while maintaining a laid-back Florida vibe, which is particularly evident at their nautical-themed restaurant, Jack Dusty. Situated along the harbor leading to Sarasota Bay, Jack Dusty specializes in seafood, serving up delectable dishes such as their mouth-watering cioppino, whole fried snapper, and roasted grouper. In addition to their scrumptious seafood and lunch menu, Jack Dusty has also garnered a reputation for its exceptional craft cocktails. One such example is The Siren, a tasty and visually appealing concoction.
Lido Beach Resort Tiki Bar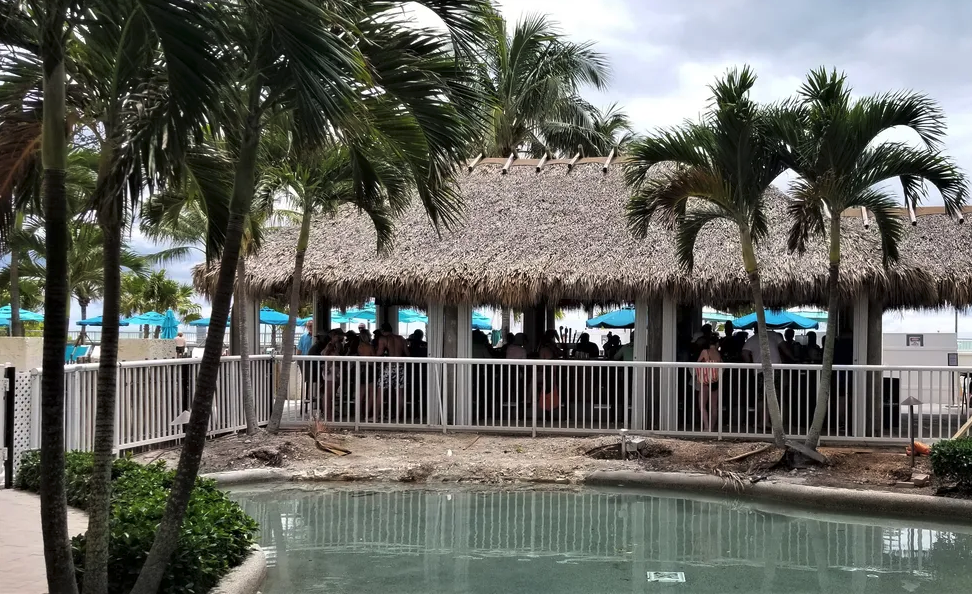 700 Ben Franklin Drive, Sarasota | 941.388.2161 | lidobeachresort.com
At the Lido Beach Resort, the Drift Kitchen & Bar boasts stunning 180-degree, floor-to-ceiling views of the Gulf waters and Sarasota cityscape. This upscale eatery is located on the eighth floor of the resort, providing guests with breathtaking vistas while they indulge in delicious cuisine. If you're looking for a more laid-back dining experience, the resort's poolside tiki bar is the place to be. Situated right along the beach, you can enjoy the fresh sea breeze while wearing nothing more than your bathing suit. Among the popular menu items is the Great Pass Fish Sandwich, which features blackened or grilled local catch served on a toasted Hawaiian roll with lettuce, tomato, caramelized onions, and lemon aioli.
Marina Jack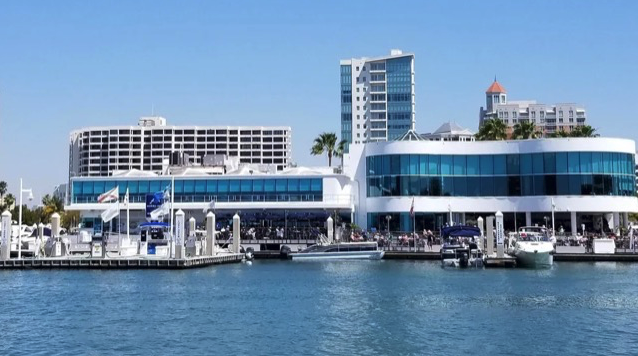 2 Marina Plaza, Sarasota | 941.365.4232 | marinajacks.com
A downtown Sarasota dining institution since the late 1960s, this landmark restaurant offers several seating options, but the must-visit spot is undoubtedly The Blue Sunshine Patio. With an open-air ambiance, spacious covered section, and a bar, this patio overlooks Sarasota Bay and Bayfront Park, making it the perfect place to soak in the breathtaking views while enjoying live music most days at 5 p.m. The menu at this restaurant is predominantly seafood, with a range of delectable dishes to choose from. Popular favorites include the grouper Reuben sandwich, which is a unique twist on a classic sandwich, but if you're in the mood for something different, the Signature Broaster Chicken is definitely worth a try.
New Pass Grill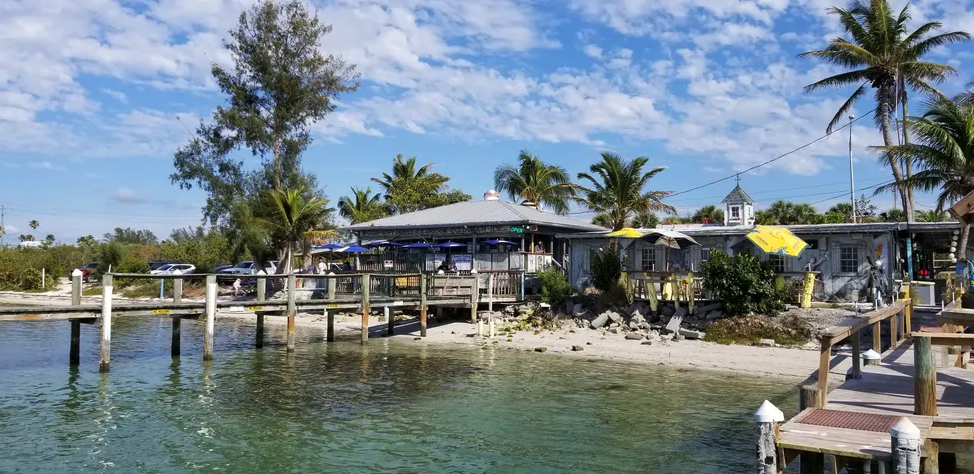 1505 Ken Thompson Parkway, Sarasota | 941.388.3050 | newpasgrill.com
If you're a Sarasotan, then you owe it to yourself to experience the Old Florida charm of visiting City Island and indulging in a juicy burger and a cold can of beer while sitting on the docks of New Pass Grill and Bait Shop. Established in 1929, this iconic eatery has been serving up mouth-watering burgers since the 1950s, and they have rightfully earned a spot as a local favorite. While there are other menu items available at New Pass Grill and Bait Shop, it's hard to beat their burgers. Whether you opt for the standard burger or upgrade to Angus, each one is nestled inside a remarkably hearty and flavorful bun that excels at soaking up all the delicious juices.
Old Salty Dog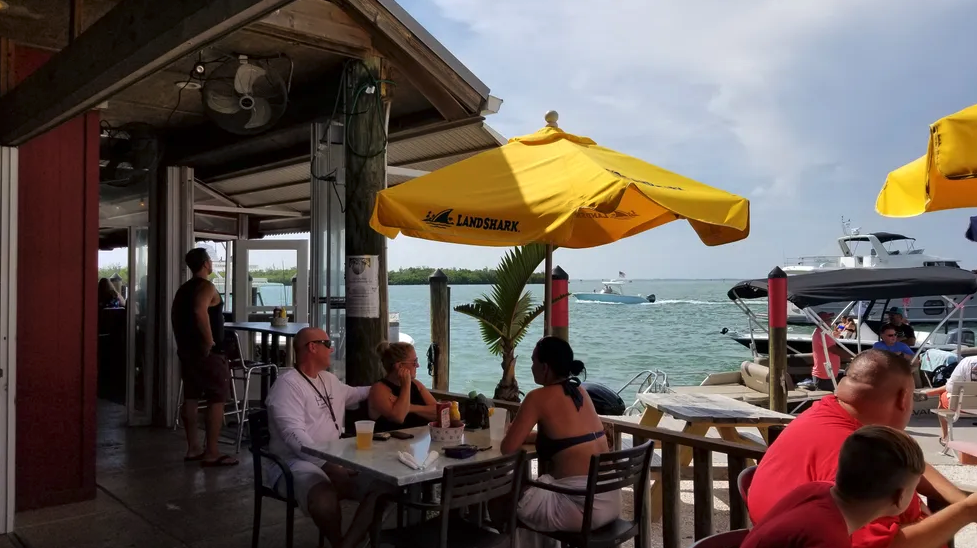 1601 Ken Thompson Parkway, Sarasota | 941.388.4311 | theoldsaltydog.com/city-island
Located on City Island, adjacent to the MarineMax boat retailer and overlooking the New Pass Inlet, this Old Salty Dog establishment is part of a group that includes locations on Siesta Key and Venice Island. Renowned for its appearances on "Man v. Food" and MTV's "Siesta Key," the restaurant offers a diverse menu featuring comfort food classics and seafood options. Don't miss the wings with Old Bay hot sauce or the delectable fish 'n' chips made with haddock. However, the most famous item remains the Salty Dog: a quarter-pound hot dog from the esteemed Sarasota institution, Geier's Sausage Kitchen, dipped in batter and fried to a golden brown. For a truly daring experience, try the "fully loaded" hot dog famously devoured by Adam Richman on his previous hit show on the Travel Channel.
O'Leary's Tiki Bar and Grill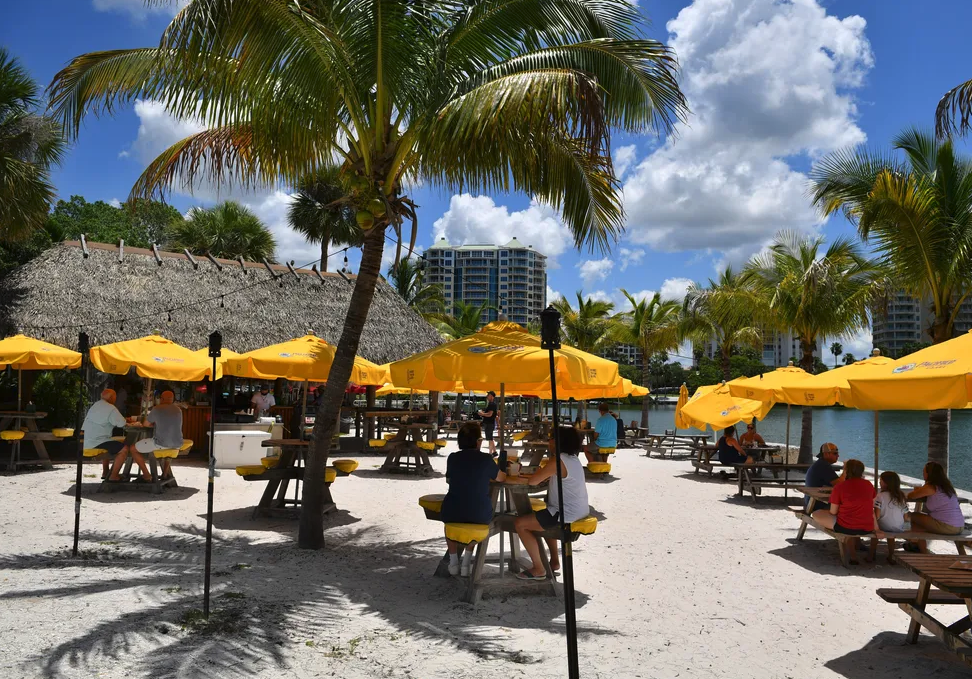 5 Bayfront Drive, Sarasota | 941.953.7505 | olearystikibar.com
Nestled beneath the towering condo buildings of downtown Sarasota, O'Leary's offers a tropical escape and serves as the laid-back beachy sibling to the nearby Marina Jack. This delightful establishment is open daily for breakfast, lunch, and dinner, providing a variety of options to satisfy your cravings. Indulge in one of their mouth-watering burgers, accompanied by a side of curly fries, and complement it with a refreshing margarita. As you savor your meal, immerse yourself in the vibrant atmosphere created by the daily live music acts, which often include the beloved tunes of Jimmy Buffett. Once you've enjoyed some libations and music, take a leisurely stroll around the picturesque Bayfront Park.
Ophelia's on the Bay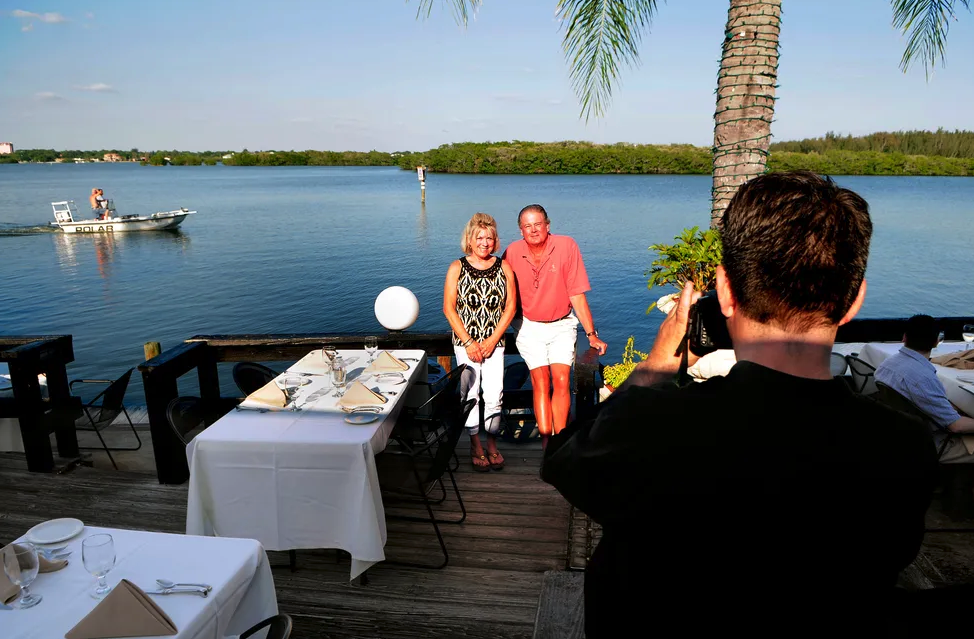 9105 Midnight Pass Road, Sarasota | 941.349.2212 | opheliasonthebay.net
Situated on the scenic shores of Little Sarasota Bay, Ophelia's has captivated guests with its romantic waterfront setting since its establishment in 1988. The restaurant offers a range of seating options, including outside patio seating and two glass-walled dining rooms, allowing diners to enjoy breathtaking views while indulging in a memorable dining experience. Ophelia's serves dinner every evening from 5 to 10 p.m., and reservations are highly recommended to secure a table at this sought-after establishment. The restaurant specializes in seafood. In addition to their seafood offerings, Ophelia's menu regularly features creative and enticing dishes prepared with beef, lamb, and duck, ensuring there's something to satisfy every palate.
Phillippi Creek Oyster Bar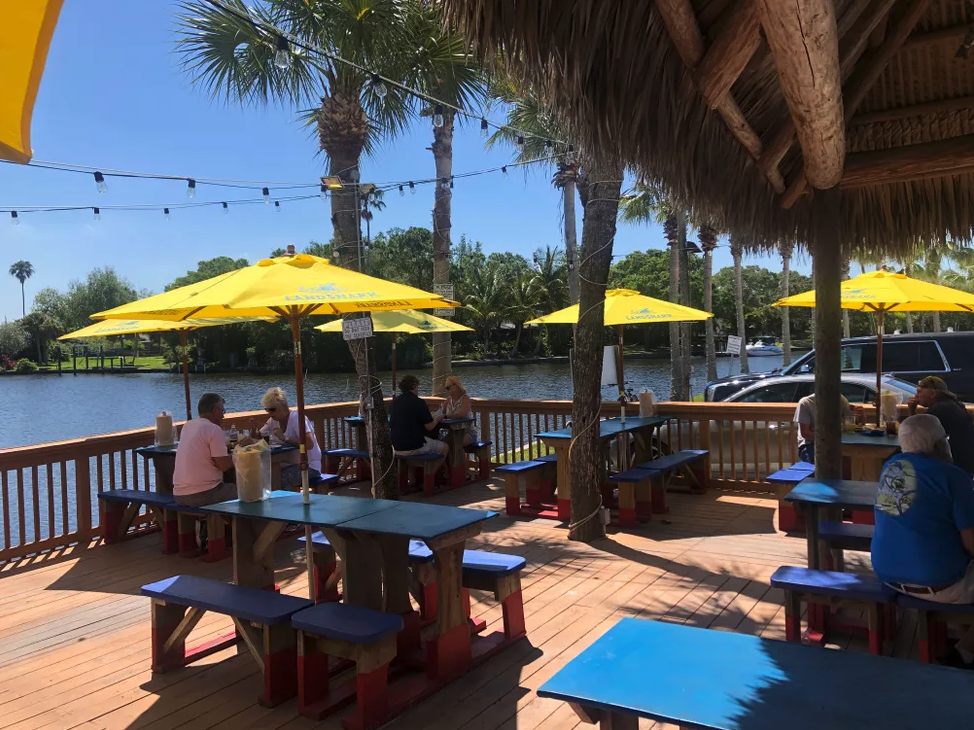 5353 S. Tamiami Trail, Sarasota | 941.925.4444 | creekseafood.com
Phillippi Creek Oyster Bar, founded in 1978, is located on its namesake waterway about four miles south of downtown Sarasota. With lots of deck seating, an indoor dining room, and an expansive bar, the restaurant offers seafood in an Old Florida setting. They serve lunch and dinner daily, with signature combo pots and fried or baked seafood platters being popular menu items. Additionally, patrons enjoy oysters on the half shell, paired with a cold beer or tropical cocktail.
Turtles on Little Sarasota Bay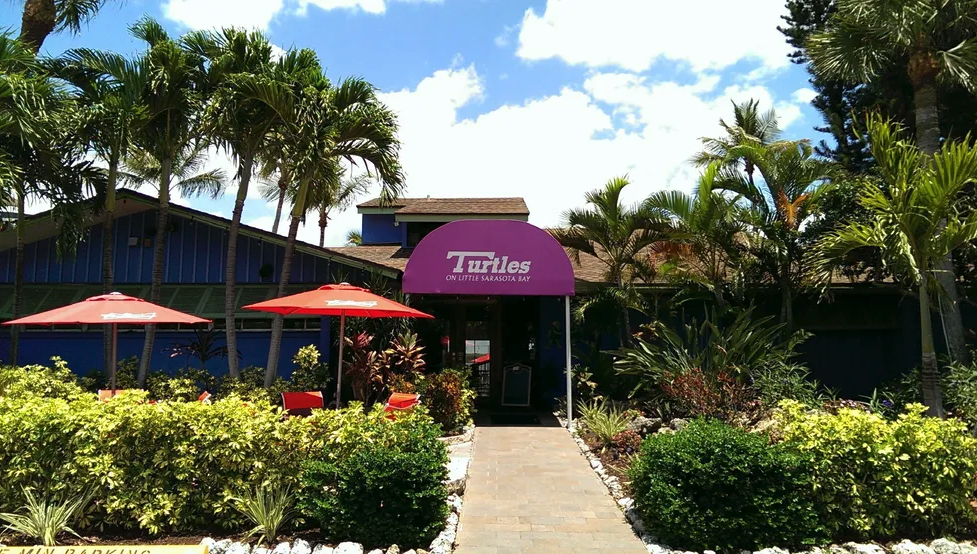 8875 Midnight Pass Road, Sarasota | 941.346.2207 | turtlerestaurant.com
Nestled amidst coconut palms and lively parakeets, this relaxed dining spot on south Siesta Key offers a tropical ambiance and stunning views of Little Sarasota Bay. Welcoming both locals and tourists since 1986, the restaurant is open daily for lunch and dinner, conveniently located at Marker 48 for those arriving by sea. The menu features a range of popular dishes, including the flavorful grouper sandwich, the delightful coconut-crusted mahi-mahi, and the refreshing Turtle Salad topped with grilled shrimp. On Sundays, guests can indulge in a delectable brunch spread. The restaurant also boasts a full beverage menu, featuring classic cocktails and everyone's favorite boat drinks, including a variety of margaritas.